Aja writes about culture.
Aja is a culture reporter for Vox. They're focused on internet culture and communities, as well as criticism and commentary on moves, tv, theatre, and other media.
Aja is a member of the Writers Guild, a member of the American Theatre Critics Association, and a 2019 fellow of the National Critics Institute. They're a frequent guest on podcasts, radio, media, and at conferences, speaking to a broad range of topics, including film and theatre, geek and tech culture, fandom, online extremism, and the internet.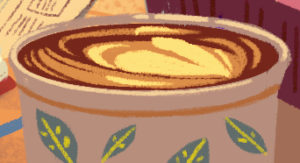 Freelance etc.
Aja's first job out of college was as a copy editor and theatre reviewer for a local newspaper. They spent 8 years as a freelance entertainment reporter, writer, and editor, and have edited everything from screenplays and memoirs to Christian contemporaries and paranormal romances, including serving as submissions editor for Big Bang Press. In 2012 the Daily Dot hired them as its first full-time fandom reporter. In 2016 they joined Vox as a culture reporter.
Creativity
In 2017, Aja co-created the Shenanigans original fic universeon AO3 with earlgreytea68. In 2018, they co-wrote and produced the Kaleidotrope Podcast, which was nominated for several Audioverse Awards, including Best Writing. They've published several short stories in anthologies and online magazines.
Aja likes theatre and horror and regency romance and queer villains and demons and true crime and cult films and cults and fic. They live in Brooklyn and would like to show you their tarot collection!