"Over time we've all developed this consensus that we watch Keanu performances in certain ways. We didn't realize at the time that we had to watch them that way, but now we can see where he's acting and when he's not acting!"

– "The Watcher"
Today, Explained eps:
Conventions & Panels!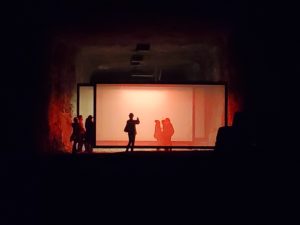 Look at this mine art installation!
2019: Appeared on a wonderful internet culture panelat NYU's School of Journalism!
2019: Conversation with Snap Lab's Katie Babineau, at the Decoded Future Summit
2019: Moderated the "Unearthing Culture" panel at Original Thinkers in Telluride — which took place in a mine!
2018: Appeared on Zimbio's fandom shipping panel at Fandemic Tour Sacramento
2018: Was honored to serve as a True/False provocateur
2017: Appeared on Drunk Education's Final Girls panel for Brooklyn Horror Film Fest, repping for Black Christmas!
2016: Returned to Comic-Con's queer horror panel!
2016: Did six panels at Leviosa
2016: Organized "Flail or Fail: Marketing to Fandom" at SXSW!
2015: Modded Mad Max panel for Dragon Con's apocalypse track!
2015, Comic-Con, panelist, "The Gay Agenda in Horror"
2015, guest-lectured at Princeton for Prof. Anne Jamison's English course in fandom history!
2014, Geek Girl Con: moderated panels on modern slash fandom and putting fandom skills on your resume!
2014, Dragon Con: "Future of Harry Potter," YA track panel
2014: Hosted an evening with Orlando Jones at Tumblr Headquarters!
2013: YALSA YA literature symposium, panelist on "Fandom and the Teen World"
2012, Ascendio: moderated "Out of the Closet: Slash in the Third Wave" with Cat Tosenberger.
2010, Infinitus: moderated "FTW or Made of Fail: Real Life Issues in Fiction"
2007, Phoenix Rising: moderated "Shipping the Velvet: Slash Fandom, Convergence, and Why You Should Care About Harry Potter Mpreg," featuring Henry Jenkins; also put together a short documentary on post-Katrina New Orleans with Erica George.
2007, Ikasucon: moderated panel/discussion on slash & yaoi.
2003, Nimbus 2003: moderated "Resolved: Can Draco Malfoy Be Redeemed?" and spontaneously sat in on the slash panel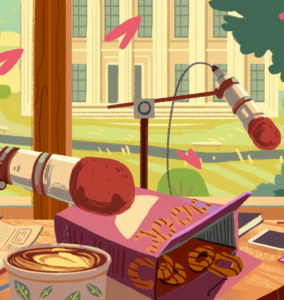 listen to my podcast spots!
I've done lots of podcast appearances over the years and I am putting them all here, so we can all listen to my melodious Midwesternized Southern accent!
Vox's Today, Explained
Have appeared on several episodes of this fantastic series, including:
Other podcasts:
Coming soon: The Conversationalist.
Coming soon: Cool Breeze Over the Mountains: "Constantine."
Vox's Reset: Appeared on Recode's popular tech culture podcast to discuss the fallout of FOSTA-SESTA in the year since it passed. (Pair with the Today, Explained episode!)
Cool Breeze Over the Mountains: "The Watcher." Had a blast discussing this film with the Keanu fans at the Cool Breeze podcast. (And yes, this is another episode where I talk a lot about the gay serial killer trope.)
Decoder Ring: "The Johnlock Conspiracy." I was so happy to contribute to one of the most memorable episodes of this acclaimed podcast, discussing the Johnlock Conspiracy with host Willa Paskin.
I'm Shaping Opinion: "Remembering AIM". Dropped in to chat with host Tim O'Brien about the demise of AOL Instant Messenger, and the bygone time of intimacy on the internet before social media.
Empty Frames: "Shredding Banksy." Had a great chat with Tim and Lance about Banksy and the tensions in modern art!
Fansplaining: "Real Person Fiction." Hung out with good friends for a chat about one of my favorite modes of fanfic. I love this conversation <3
Genuinely Obsessed: Sat down with my Kaleidotrope co-creator EGT for a lovely interview with our fan Sarah about our podcast! <333 It's in two parts: Part One and Part Two
Alien Minute: Participated in a wonderful discussion about Bill Paxton's "squad of ultimate badasses" scene!
Gobbledygeek: "Two Is the Magic Number!" Came on this fabulous podcast to discuss Hitchcock's Strangers on a Train and Shadow of a Doubt. (Yes, that means more queer serial killers.)
Character Reveal: "All the Fandom with Aja." I loved this conversation with Dom and Steph about being in fandom and how my fannish experiences shaped my career and so much more!
Women in Caskets: "The Gay Killer Strikes Again (and again)." Discussed my favorite horror trope with these brilliant horror fans.
Fangirl Happy Hour: "Happy Anniversary, Inception!" Had this great chat with my girls Ana and Renay to discuss the most amazing fandom ever. <3
2012–2013: co-hostedFandomspotting with a rotating number of guests. We were awesome. <3 My favorite episodes include the Lizzie Bennet ep, the James Bond ep, our wake for LiveJournal, and our epic two-part Les Miserables session, Jam ValJean part 1 and part 2
Other Media Appearances
tv & radio spots, publications, and misc.